British design company and cycle enthusiasts, Hedkayse, is pleased to announce the arrival of its long awaited Hedkayse – a foldable bicycle helmet featuring Enkaysetechnology. The Hedkayse One is the toughest and most flexible bicycle helmet available on the market, doing everything other polystyrene helmets can do but better and repeatedly: day after day, drop after drop, crash after crash, year after year. The Hedkayse One is available on pre-order now from the Hedkayse website for £149.99 with delivery due in April.
Since conception, bicycle helmets have been made from polystyrene (EPS) which is great for a single impact. Unfortunately, one single impact could leave an invisible crack, rendering the helmet effectively useless, meaning it should be replaced every time it's dropped or knocked.
The designers of Hedkayse, George Fox and Andrew Redman, couldn't believe that this had been the case for decades and instead of following their basic brief of designing a foldable bicycle helmet, decided to explode fifty years of industry convention by developing a new and previously unused material they've trademarked Enkayse. They thus produced not just a helmet that folds and fits into the smallest of rucksacks but the first to survive multiple impacts.
Hedkayse One has been shown in standardised test conditions to sustain multiple impacts without incurring the least bit of structural damage. At the same time, as per the original brief, it compresses down to approximately 2.5 litres by volume, or 13 cm across (folded down front to back spine). Additionally, the finned design and the malleability of the material from which it is made means it fits any head, whatever the shape, whatever the size. Designed, developed and made in Britain, it's as stylish as it is tough.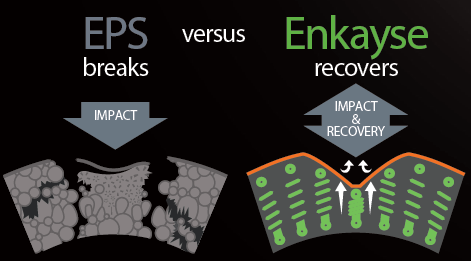 The Hedkayse One is a step change in the evolution of the safety helmet. Hedkayse didn't just design a new product; they changed the game itself by developing an entirely new material – a new polymer that could handle the same temperatures as EPS yet that was stronger and less brittle. The product went through years of development and thousands of tests, and is now fully European Safety Standard (EN1078) approved with certification for US and AUS/NZ standards towards the middle of 2019.

The helmet itself has a TAF (tough and flexible) outer shell, four inline vents for maximum airflow and an antibacterial medical grade inside liner. With the patented X-Strap, the helmet can expand and contract to fit all head sizes from 49-62cm. The Hedkayse One stays safely in place thanks to its Patented QARC (quick adjustable release clip) and perma-fit adjustable clips. Like other bicycle helmets, it remains easy to attach extras such as lights and cameras.
So confident were Hedkayse in its new creation, they ran it over in a car (video here), threw it off a cliff (video here), jumped on it (video here) and it remained unscathed, demonstrating how it is virtually impervious to blunt-force trauma, hardly leaving even a scratch. Last year, cycling experts Bike Radar, tested a prototype helmet and stated, "The Hedkayse could be the last helmet you ever need to buy."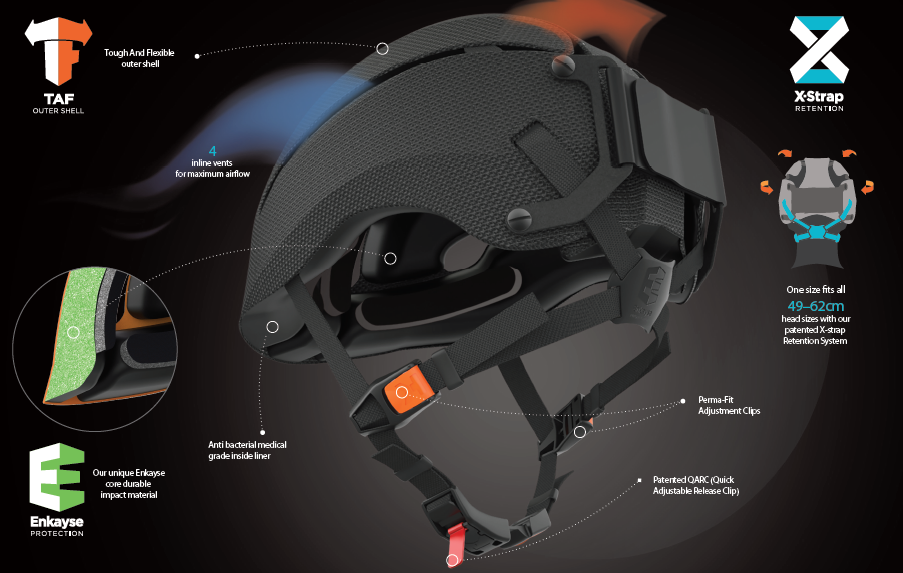 The Hedkayse One is available now on pre-order from the Hedkayse website for £149.99. Product delivery is anticipated in April.
The Facts:
Hedkayse deploys Enkayse™, an exclusive cutting-edge polymer that can handle repeated severe impacts and a temperature range of -20 to +50 degrees centigrade.
The tough outer shell is extremely resistant to everyday life.
The Enkayse is pliant and comfortable yet provides protection against blunt-force trauma.
It meets and exceeds the requirements of the European cycle helmet standard (EN1078).
Hedkayse's patented flexible design makes it a one-size-fits-all item without compromising safety. The 'whale tail' design is stylish and looks streamlined and ergonomic on any size of head.
Compresses to approximately 10cm wide, fitting it in a handy compact bag.
Seamless adjustability comes from a combination of our patented X-Strap Retention System, Perma-Fit Adjustment Clips and a QARC quick adjustable release clip.
Approximate weight 450grams.
Anti-bacterial medical grade inside liner.
Designed for commute, urban and MTB.
Available in 5 standard colours, custom colours on request.