AKASO, one of the leading action camera brands worldwide, is today pleased to announce the availability of the AKASO V50 Pro Native 4K/30fps action camera. Waterproof, touch screen and with an adjustable view angle, the V50 Pro provides clear and stable images for sports both above and below water and is available for £119.99/$119.99 from Amazon UK and Amazon.com.
The AKASO V50 Pro has superb image quality with 20MP and 4K/30fps that will enable users to capture every detail of their adventures, memories and the great outdoors. Also, using built-in Electronic Image Stabilisation (EIS) with a 6-axis gyroscope detecting position and motion changes, any videos produced will be stable even when the camera tilts, moves, shakes or experiences any type of impact. This makes the camera ideal for using in sports such as skiing, cycling or diving and still maintain an impressive recording of the event. With H.265 Video Codec and compatibility with external mics, videos can also record voices and noise for immersive viewing.
Using the 2-inch high responsive IPS touch screen enables users to control the small action camera easily. Setting, previewing and shooting/recording is simple and means that clips can be recorded quickly so every moment is captured. The V50 Pro also has an optional view angle which allows users to adjust the angle of the action camera according to needs. Varying from super wide, wide, medium and narrow, images or clips can be recorded based on personal preference or location requirements. Also featuring LDC (lens distortion correction), the camera ensures all images and videos are of the highest quality.
The V50 Pro is not only great at recording in different modes, angles and during different activities, it is also waterproof making it ideal for taking on summer holidays or on water sports activities. Able to be submerged up to 30m, it can easily take clips in the pool or in the ocean and memories from snorkelling can be documented easily. The Diving Mode can also be turned on when users are a bit more adventurous be it from a diving board or cliff jumping. This mode compensates for the lack of red light in underwater conditions and is designed to be used in tropical and blue water.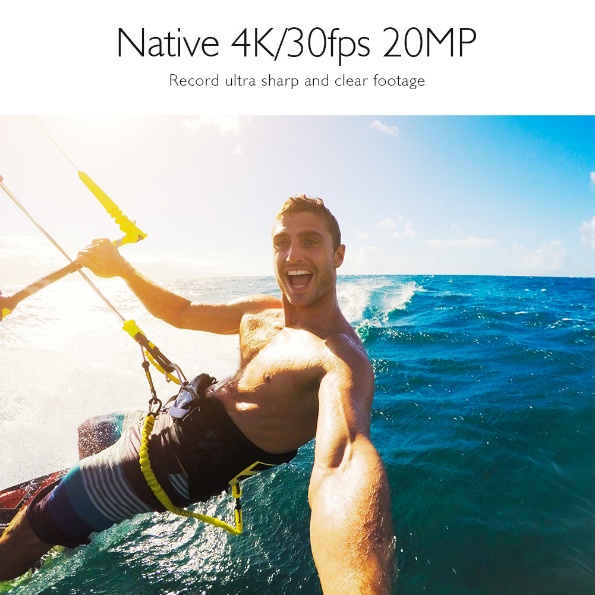 Once images or videos have been recorded, they can be shared on social media instantly using the built-in Wi-Fi by downloading the App (iSmart Pro+) onto a phone or tablet and connecting it to the action camera. With no need to transfer images from camera to PC, it is simple and quick to boast about the latest snowboarding jump, cliff dive or cycling stunt, making the camera ideal for travel lovers who want to keep connected whilst enjoying the time away. The V50 Pro can also be connected to a TV using a HDMI Port if users want to show their adventures on a bigger screen.
Packed full of extra modes and settings, the V50 Pro can also use built-in filters if the scene doesn't look quite the way the user would like. Burst photos, time lapse photos/videos and slow/fast motion videos means that there is a way to adjust the camera to whatever most suits the needs. The wind noise reduction feature also means that if wakeboarding, paragliding or surfing on a particularly windy day, the noise from the external mic will be just as clear.
The V50 Pro also comes with two rechargeable 1100mAh batteries, chargers and a remote-control wristband so the camera will never run out of battery at a crucial moment. Additionally, a variety of mounts are included in the box so there will be an option that will suit any user no matter what the sport.