AKASO, one of the leading action camera brands worldwide, is today pleased to announce the availability of the AKASO EK7000 Pro 4K action camera. Featuring high quality videos and images, an intuitive touch screen and electronic image stabilisation, the EK7000 Pro 4K is ideal for action sports and outdoor adventure and is available for £76.99/$74.99 from Amazon UK and Amazon.com.
The AKASO EK7000 Pro 4K action camera delivers 4K/25fps, 2.7K/30fps and 1080P/60fps videos and 16 megapixel photos. With such high quality, every moment can be captured in crisp detail and clarity. The built-in electronic image stabilisation ensures all filming is steady and smooth even when shooting fast-moving objects or participating in sports or activities and supports video resolution up to 1080P/60fps and 1080P/30fps. The adjustable viewing angle also allows users to set the angle of the action camera as required with the choice of super wide, wide, medium and narrow.
Ideal for water sports such as swimming, surfing and snorkelling, the AKASO EK7000 Pro 4K is equipped with a waterproof case that means the camera can dive up to 40 metres/131 feet. By turning on Diving Mode, it can also compensate for the lack of red light in underwater scenes to ensure that images and clips recorded are just as high quality as those on the ground.
In addition to water sports and on-land activities, the action camera can also be used as a dash cam whilst driving. With multi-functions including 'Loop Recording' and 'Upside Down', it can record any knocks or accidents providing crucial evidence if required for insurance claims.
The multi-functions of the action camera make it extremely versatile and the ideal travelling companion. The ultra 2-inch touch screen with IPS display is intuitive and shows everything clearly and brightly and makes it easy to control the camera to change settings, switch shooting modes, preview and playback footage.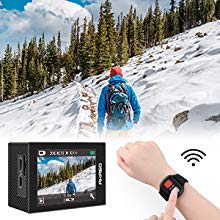 With a 2.4GHz wireless remote control included, users can easily operate the camera whilst taking part in their chosen outdoor activity without any fumbling to ensure every key moment is captured. The built-in Wi-Fi then makes it simple to share clips and images on the go as they happen. By downloading the iSmart DV app to a phone or tablet and connecting the camera, it is easy to instantly post to social media channels including Instagram, Facebook and YouTube. The camera can also be controlled remotely to switch modes, check out the pictures and images and show off to family and friends on the spot with total ease.
With valuable mounting accessories included in the box such as bicycle stands, seven mounts, a helmet mount and a clip, the camera can be easily used in whichever activity or sport is desired. The action camera also comes with a USB dual charger and two batteries which can each record video up to 90 minutes each to allow for three hours in total.
The AKASO EK7000 Pro 4K action camera is available now for £76.99/$74.99 from Amazon UK and Amazon.com